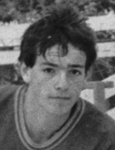 Christophe Ville (born June 15, 1963 in Dijon, France) is a retired French centre.
He played pro hockey in Italy and France from 1980 to 1998. He won the Jean-Pierre Graff Trophy in 1982 and the Albert Hassler Trophy in 1983, 1984, 1991, and 1992.
Ville played for France in the 1988, 1992, and 1994 Olympics.
He was named to the French Hockey Hall of Fame in 2011.
Ad blocker interference detected!
Wikia is a free-to-use site that makes money from advertising. We have a modified experience for viewers using ad blockers

Wikia is not accessible if you've made further modifications. Remove the custom ad blocker rule(s) and the page will load as expected.