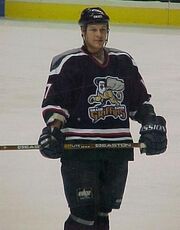 Chris Szysky (born June 8, 1976 in Regina, Saskatchewan) was a Canadian right winger who played for the Grand Rapids Griffins of the International Hockey League.
He played junior hockey for the Swift Current Broncos from 1992 to 1997. The Dallas Stars chose him 280th overall in the 1994 NHL Entry Draft.
Szysky played two seasons for the Canadian National Team in 1996-97 and 1997-98. After that he turned pro with the Grand Rapids Griffins through the 2001-02 season. He ended his career with one season for the Sheffield Steelers in Great Britain and retired in 2003.
Ad blocker interference detected!
Wikia is a free-to-use site that makes money from advertising. We have a modified experience for viewers using ad blockers

Wikia is not accessible if you've made further modifications. Remove the custom ad blocker rule(s) and the page will load as expected.