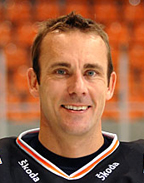 Chris Rogles (Born January 22, 1969 in St. Louis, Missouri) is a former American goaltender.
He played for Clarkson University from 1989 to 1993. In 1993 Rogles was the Most Outstanding Player in the ECAC tournament.
Not drafted by any NHL team, Rogles joined the Indianapolis Ice of the International Hockey League whre he won the Ken McKenzie Trophy as beat goalie in 1993-94.
Rogles finished up his career with 11 seasons in the Deutsche Eishockey Liga until he retired in 2008. He also played for the United States in the 2003 IIHF World Championship.
After retirement, Rogles was an assistant coach at Clarkson and at Merrimack College.
Ad blocker interference detected!
Wikia is a free-to-use site that makes money from advertising. We have a modified experience for viewers using ad blockers

Wikia is not accessible if you've made further modifications. Remove the custom ad blocker rule(s) and the page will load as expected.