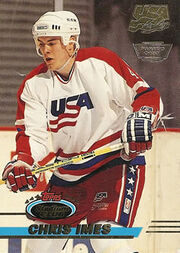 Chris Imes (born August 27, 1972, in Birchdale, Minnesota) is a retired American defenceman.
He had a stellar career with the Maine Black Bears of the NCAA from 1990 to 1995 (except for 1993-94), Imes won All-Star honours in 1992, 1993, and 1995.
Imes played for the United States at the 1994 Olympics, 1991 World Junior Ice Hockey Championships, 1992 World Junior Ice Hockey Championships, and 1995 World Championship.
Selected by the Florida Panthers in the 1993 NHL Supplemental Draft, Imes turned pro with the Minnesota Moose in 1995. After playing a season with the Alaska Aces, he left for Europe to join HDD Olimpija Ljubljana. He retired in 2000.
Imes was an assistant coach in the United States Hockey League with the Tri-City Storm (2000-01) and the Sioux Falls Stampede (2004-05). In 2005-06 he was the head coach of the Chicago Steel.
Ad blocker interference detected!
Wikia is a free-to-use site that makes money from advertising. We have a modified experience for viewers using ad blockers

Wikia is not accessible if you've made further modifications. Remove the custom ad blocker rule(s) and the page will load as expected.