Ad blocker interference detected!
Wikia is a free-to-use site that makes money from advertising. We have a modified experience for viewers using ad blockers

Wikia is not accessible if you've made further modifications. Remove the custom ad blocker rule(s) and the page will load as expected.
The Chilliwack Bruins were a Junior "A" ice hockey team. The Bruins played in the British Columbia Hockey League.
The Chilliwack Chiefs were first formed in 1970 as a member of the British Columbia Junior Hockey League. The club was founded as a farm team for the WHL's Estevan Bruins. After a 1975-76 season which saw the Bruins finish last in BCJHL, the team joined the newly formed Pacific Coast Junior Hockey League. However, after an uneven performance while in the PCJHL, including a 1977-78 season which saw the Bruins win just one of their 48 regular season games, the team returned to the BCJHL for the 1978-79 season as the Colts. After two seasons, the Colts folded midway through the 1980-81 campaign with just one victory in 35 games, and the Chilliwack didn't see Junior "A" hockey again until the Richmond Sockeyes relocated to the city after the 1989-90 season.
Season-by-Season Record
Edit
Note: GP = Games Played, W = Wins, L = Losses, T = Ties, OTL = Overtime Losses, GF = Goals for, GA = Goals against
| | | | | | | | | | | | |
| --- | --- | --- | --- | --- | --- | --- | --- | --- | --- | --- | --- |
| Season | League | GP | W | L | T | OTL | GF | GA | Points | Finish | Playoffs |
| 1970-71 | BCJHL | 60 | 12 | 43 | 5 | - | 183 | 353 | 29 | 4th BCJHL Central | Lost Division Final |
| 1971-72 | BCJHL | 60 | 25 | 31 | 4 | - | -- | -- | 54 | 4th BCJHL | Lost Semi-final |
| 1972-73 | BCJHL | 61 | 29 | 31 | 1 | - | 268 | 287 | 59 | 2nd BCJHL Central | Lost Final |
| 1973-74 | BCJHL | 64 | 22 | 39 | 3 | - | 251 | 326 | 47 | 3rd BCJHL Coastal | Lost Semi-final |
| 1974-75 | BCJHL | 66 | 34 | 32 | 0 | - | 321 | 342 | 68 | 2nd BCJHL Coastal | Lost Semi-final |
| 1975-76 | BCJHL | 66 | 16 | 49 | 1 | - | 230 | 417 | 33 | 5th BCJHL Coastal | Lost Quarter-final |
| | | | | | | | | | | | |
| 1978-79 | BCJHL | 62 | 28 | 31 | 3 | - | 284 | 287 | 59 | 4th BCJHL Coastal | Lost Semi-final |
| 1979-80 | BCJHL | 66 | 35 | 30 | 1 | - | 326 | 328 | 71 | 3rd BCJHL Coastal | Lost Semi-final |
| 1980-81 | BCJHL | 35 | 1 | 34 | 0 | - | 89 | 302 | 2 | 8th BCJHL Coastal | DNQ |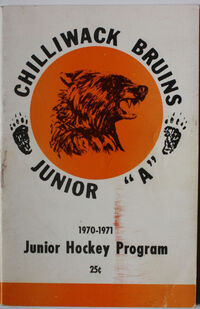 References
Edit