Ad blocker interference detected!
Wikia is a free-to-use site that makes money from advertising. We have a modified experience for viewers using ad blockers

Wikia is not accessible if you've made further modifications. Remove the custom ad blocker rule(s) and the page will load as expected.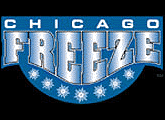 The Chicago Freeze were a Junior "A" team in Geneva, Illinois. They played in the North American Hockey League from 1997 to 2003.
They moved to Illinois from Fraser, Michigan where they were known as the Detroit Freeze. The team was renamed from the Detroit Jr. Wings when the Ontario Hockey League's Detroit Compuware Ambassadors were renamed the Detroit Jr. Wings in 1992
The Freeze played in the Fox Valley Ice Arena.
In 2003 they folded due to financial pressure. Their revenue was low and they were spending more than $25,000 per player per season.
Year-by-Year Record
Edit
Season
GP
W
L
T
OTL
SOL
GF
GA
P
Results
Playoffs
Detroit Jr. Wings
1987-88
32
16
9
7
-
-
182
133
39
2nd Overall
1988-89
40
20
16
4
-
-
232
196
44
3rd Eastern
1989-90
44
24
18
2
-
-
221
200
50
2nd Eastern
1990-91
40
24
11
5
-
-
-
-
53
2nd Eastern
1991-92
44
20
17
3
4
-
189
170
47
2nd Eastern
Detroit Freeze
1992-93
40
29
8
3
0
-
240
154
61
1st Eastern
1993-94
46
14
25
5
2
-
168
228
33
5th Eastern
1994-95
44
31
12
1
0
-
268
181
63
3rd overall
1995-96
46
25
16
4
1
-
211
177
55
3rd overall
Lost in Semifinals
1996-97
46
21
23
0
2
-
184
186
44
5th overall
Chicago Freeze
1997-98
56
28
24
-
0
4
202
208
60
5th overall
1998-99
56
28
24
-
0
4
189
178
60
5th overall
lost in Quarterfinals
1999-00
56
26
26
-
0
4
171
194
56
4th West
2000-01
56
35
20
-
1
0
230
198
71
3rd West
2001-02
56
16
36
-
4
0
153
231
36
4th West
2002-03
56
34
20
-
2
0
220
180
70
2nd West
Lost in Quarterfinals
Freeze who played in the NHLEdit