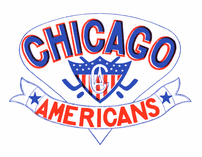 The Chicago Cardinals (also known as the Chicago Americans) were a minor pro team in Chicago, Illinois, United States. They played for one season (1926-27) in the American Hockey Association (AHA).
They were renamed the Americans on March 8, 1927.
The team finished in fifth place with a 11-24-2 record.
The team was owned and coached by Eddie Livingstone who had previously owned the Toronto Blueshirts in the National Hockey Association. There was very bad blood between him and the National Hockey League (NHL). When the AHA wanted an agreement with the NHL in 1927, the NHL insisted that the AHA boot Livingstone out. The NHL also wanted to get the AHA out of Chicago where they were competition for the Chicago Blackhawks.
The AHA agreed and that was the end of the Cardinals/Americans.
The AHA stayed out of Chicago until 1929 when they started a war with the NHL.
Cardinals who played in the NHLEdit
Ad blocker interference detected!
Wikia is a free-to-use site that makes money from advertising. We have a modified experience for viewers using ad blockers

Wikia is not accessible if you've made further modifications. Remove the custom ad blocker rule(s) and the page will load as expected.