Ad blocker interference detected!
Wikia is a free-to-use site that makes money from advertising. We have a modified experience for viewers using ad blockers

Wikia is not accessible if you've made further modifications. Remove the custom ad blocker rule(s) and the page will load as expected.
The Chicago Bulldogs are a USA Hockey-sanctioned ice hockey team from Romeoville, Illinois. The team commenced play with the 2010-11 season as the Chicago Force based out of the Fox Valley Ice Arena in Geneva, Illinois where they played for two seasons. The team was renamed the Chicago Hitmen for 2011-12 The organization sat out the 2012-13 season. The team was revived for the 2013-14 season under the Jr. Bulldogs moniker. They play in the North American 3 Hockey League at the Canlan Ice Sports Arena.

On May 17, 2016 the NA3HL announced that the change in ownership of the team had been approved. The team was purchased by Exceed Hockey Group, LLC which consist of Scott Meyer and Joe Pankratz. The two are also the owners of the NAHL's Minnesota Magicians. As part of the announcement the team named Craig Sheppard as the new head coach. The announcement also unveiled a new team logo and colors which are very similar to the Magicians.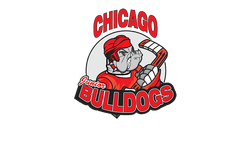 Season-by-season records
Edit
Season
GP
W
L
T
OTL
SOL
Pts
GF
GA
Regular Season Finish
Playoffs
Chicago Force
2010–11
45
28
14
-
2
1
59
215
139
4th
Unknown
Chicago Hitmen
2011–12
48
23
21
-
1
3
50
148
173
2nd, Central
Lost Division Semifinals (0-2) Peoria Mustangs
2012–13
Did not participate
Chicago Jr. Bulldogs
2013–14
48
24
17
-
7
-
5
201
197
4th, Central
Lost Division Semifinals (0-2) Peoria Mustangs
2014–15
40
31
8
-
1
-
63
229
115
2nd, North

First Round Robin Pool B (3-0)

Won League Championship Round Robin (3-0)

Lost Division 2 Championship 1-9 (Boston Jr. Bruins)

2015–16
44
31
9
-
1
-
66
224
143
2nd of 6 West , 5th of 13 overall
Won Div. Semifinals, 2-0 vs. Roc City Royals
Lost Divi. Finals, 1-2 vs. Jersey Shore Wildcats
Chicago Bulldogs