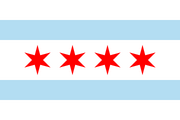 Chicago is a city in Illinois, United States.
It has a population of about 2,800,000 with a metropolitan region of over 9,500,000.
Hockey in Chicago
Edit
Bridgestone NHL Winter Classic 2009, held at Wrigley Field
NHL All Star Games: 1948, 1961, 1974, 1991
(All American Hockey Association, 2009-2009) see AAHL
(All American hockey League, 2009-2009) fold after 18 games
Great Lakes Junior Hockey League, 2011-2012) join Minnesota Junior Hockey League
(Minnesota Junior Hockey League, 2012-Present)
(AHA, 1926-1927) renamed Americans March 17, 1927
(Continental Hockey League, 1972-1976) folded
(Continental Hockey League, 1978-1986)
(Southern Elite Hockey League, 1998-1999) folded
(Central States Hockey League, 2004-2010) see NA3HL as Chicago Hitmen
(NAHL, 2010-2012) folded
(NA3HL, 2010-2012) sitting out 2012-13 season
(AHL, 2001-Present)
External Links
Edit
Ad blocker interference detected!
Wikia is a free-to-use site that makes money from advertising. We have a modified experience for viewers using ad blockers

Wikia is not accessible if you've made further modifications. Remove the custom ad blocker rule(s) and the page will load as expected.