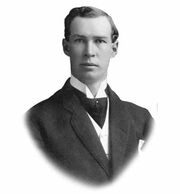 Edwin S. "Chaucer" Elliott (1879 in Kingston, Ontario – March 13, 1913) was a Canadian sportsman and a Hall of Fame referee and linesman. He is the grandfather of Bob Elliott (September 10, 1949 - ), one of Canada's most respected sports writers.
At Queen's University he played for the hockey and football teams. He was captain of the football team for two years.
He was actively involved in both baseball and football in Kingston.
Elliott began his career as a hockey referee in 1903 with the Ontario Hockey Association. In 1912 he officiated the OHA Junior finals between Toronto Canoe Club and Orillia.
In 1913 he was diagnosed with an irreversible form of cancer in the groin. He died that same year at the age of 34.
In 1961 he was inducted into the Hockey Hall of Fame.
External links
Edit
Ad blocker interference detected!
Wikia is a free-to-use site that makes money from advertising. We have a modified experience for viewers using ad blockers

Wikia is not accessible if you've made further modifications. Remove the custom ad blocker rule(s) and the page will load as expected.