Ad blocker interference detected!
Wikia is a free-to-use site that makes money from advertising. We have a modified experience for viewers using ad blockers

Wikia is not accessible if you've made further modifications. Remove the custom ad blocker rule(s) and the page will load as expected.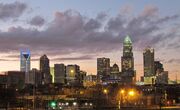 Charlotte is the largest city in North Carolina with a population of almost 700,000. The metropolitan area has over 1,700,000 people.
East Coast Hockey League (1993-2003) league renamed ECHL
ECHL (2003-2010) join American Hockey League
Eastern Hockey League (1956-1973) join Southern Hockey League
Southern Hockey League (1973-1977) fold with league
Cricket Arena
Charlotte Ice House
Time Warner Cable Arena (formerly Charlotte Bobcats Arena
External Links
Edit