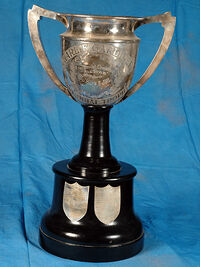 Charlie Gardiner Memorial Trophy was given to the winner of the Charlie Gardiner Memorial Series. The series was a preseason series of games involving the Manitoba Junior Hockey League's Winnipeg based teams.
The trophy was the idea of the University of Manitoba Student's Union,
who started a fund to establish it in 1934.
Charlie Gardiner, born in Scotland but raised in Winnipeg, was considered the greatest goalie of his era. In 1934 after leading the Chicago Black Hawks to their first Stanley Cup, Gardiner died of a brain hemorrhage at the age of only 29. He played junior for the Winnipeg Tammany Tigers in the early 20's.


Ad blocker interference detected!
Wikia is a free-to-use site that makes money from advertising. We have a modified experience for viewers using ad blockers

Wikia is not accessible if you've made further modifications. Remove the custom ad blocker rule(s) and the page will load as expected.