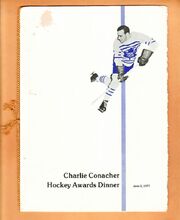 The Charlie Conacher Humanitarian Award was awarded between 1969 and 1984 to a National Hockey League player for his humanitarian contributions during that year.
It was named after the NHL star Charlie Conacher, who died of throat cancer in December, 1967. He set up a research fund for throat cancer that his widow expanded on. Every May or June, there was a Charlie Conacher Memorial Dinner where this award was presented and money was raised for the research fund.
Ad blocker interference detected!
Wikia is a free-to-use site that makes money from advertising. We have a modified experience for viewers using ad blockers

Wikia is not accessible if you've made further modifications. Remove the custom ad blocker rule(s) and the page will load as expected.