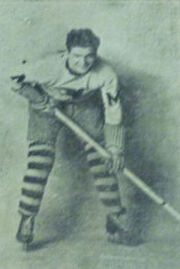 Charles Irvine was a professional hockey left winger. He played for the Detroit Olympics, New Haven Eagles, Syracuse Stars, Providence Reds, Kansas City Greyhounds, Miami Beach Pirates and the Pittsburgh Hornets during his career.
He turned pro in 1934 and retired in 1946.
Ad blocker interference detected!
Wikia is a free-to-use site that makes money from advertising. We have a modified experience for viewers using ad blockers

Wikia is not accessible if you've made further modifications. Remove the custom ad blocker rule(s) and the page will load as expected.