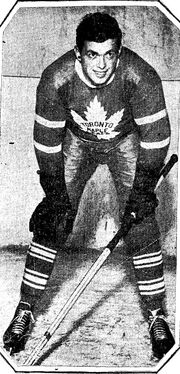 Charles Hubert Patrick "Chuck" Corrigan (May 22, 1916 – June 23, 1988) was a Canadian ice hockey right winger. He played in the NHL for the Toronto Maple Leafs and New York Americans. He was born in Moosomin, Saskatchewan.
He played with the senior Toronto Goodyears from 1935 to 1937. The Toronto Maple Leafs signed him as a free agent in 1937 and brought him up for three games in 1937-38. From 1937 to 1940 he played in the minor pros, mostly with the Springfield Indians.
The New York Americans signed him in January, 1941, and he played another 14 NHL games, scoring 2 goals and 2 assists. Then it was back to the minors until he joined the Canadian army in 1943.
After leaving the army in 1945, Corrigan played four more seasons in the minors and seniors and retired in 1949.
External links
Edit
Ad blocker interference detected!
Wikia is a free-to-use site that makes money from advertising. We have a modified experience for viewers using ad blockers

Wikia is not accessible if you've made further modifications. Remove the custom ad blocker rule(s) and the page will load as expected.