Ad blocker interference detected!
Wikia is a free-to-use site that makes money from advertising. We have a modified experience for viewers using ad blockers

Wikia is not accessible if you've made further modifications. Remove the custom ad blocker rule(s) and the page will load as expected.
The Char-Lan Rebels are a Junior "B" ice hockey team based out of Williamstown, Ontario. They play out of the Eastern Ontario Junior Hockey League.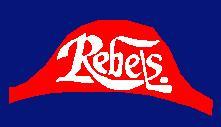 The Rebels have an intense rivalry with the Alexandria Glens. The rivalry has been touted as "The Battle of Glengarry" within the local community. Games between the teams are often heated events.
Season-by-season results
Edit
Season
GP
W
L
T
OTL
GF
GA
P
Results
Playoffs
1999-00
45
28
11
6
-
210
146
65
2nd EO StLawr
Lost Division Final
2000-01
45
19
21
5
-
168
178
43
4th EO StLawr
Lost Division S-final
2001-02
45
33
7
5
-
242
123
71
1st EO StLawr
Lost Final
2002-03
45
25
17
2
1
209
181
53
2nd EO StLawr
Lost Division S-final
2003-04
45
32
10
1
2
214
152
67
2nd EO StLawr
Lost Division Final
2004-05
45
23
19
2
1
203
179
49
3rd EO StLawr
Lost Division S-final
2005-06
45
16
24
2
3
203
261
37
5th EO StLawr
DNQ
2006-07
40
8
30
2
0
133
236
18
6th EO StLawr
DNQ
2007-08
42
15
20
4
3
172
211
37
3rd EO StLawr
Lost Division S-final
2008-09
42
25
15
1
1
207
161
52
3rd EO StLawr
2009-10
40
19
17
2
2
160
186
42
3rd EO StLawr
Lost Division S-Final
2010-11
42
8
32
0
2
132
269
18
6th EO StLawr
DNQ
2011-12
41
14
24
0
3
144
232
31
4th EO StLawr
2012-13
42
22
17
0
3
171
174
47
2nd EO StLawr
Season
GP
W
L
OTL
SOL
GF
GA
P
Results
Playoffs
2013-14
41
22
14
1
4
176
162
49
2nd EO StLawr
Lost Div. Semi-final
2014-15
40
19
20
0
1
171
176
39
4th EO StLawr
Lost Div. Semi-final, 2-4 (Vikings)
2015-16
44
17
21
3
3
178
208
40
5th of 8 Martin Div
10th of 16 CCL2
Lost 10th Pl Tie breaker (3-5 gm)(Hawks)
External links
Edit