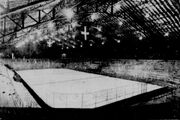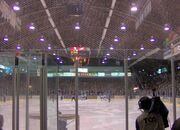 The Centre Georges-Vézina, formerly the Colisée de Chicoutimi, is a 4,651 capacity (3,683 seated) multi-purpose arena in Chicoutimi (now part of Saguenay), Quebec, Canada. It is home to the Chicoutimi Saguenéens ice hockey team. It is named in honour of former Montreal Canadiens goalie and native from Chicoutimi Georges Vézina. The arena was built in 1949 and features an Olympic-sized ice pad of 200' X 100'.
Ad blocker interference detected!
Wikia is a free-to-use site that makes money from advertising. We have a modified experience for viewers using ad blockers

Wikia is not accessible if you've made further modifications. Remove the custom ad blocker rule(s) and the page will load as expected.