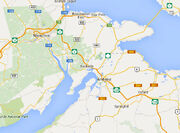 The Central Section was a senior league that operated in the adjoining areas of western Nova Scotia and eastern New Brunswick. Its champions were eligible for the Maritimes Senior Championship.
After folding in 1949, it was resurrected as an intermediate league in 1952-53. Its champions then competed for the Maritimes Intermediate Championships.
The league ran for three seasons (1952-53, 1953-54, and 1956-57) and then folded in 1957.
List of Champions
Edit
Intermediate
Edit
List of Seasons
Edit
Ad blocker interference detected!
Wikia is a free-to-use site that makes money from advertising. We have a modified experience for viewers using ad blockers

Wikia is not accessible if you've made further modifications. Remove the custom ad blocker rule(s) and the page will load as expected.