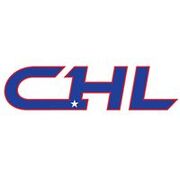 The Central 1 Hockey League is a proposed Amateur Athletic Union sanctioned Tier-I (free to play) junior ice hockey league that is scheduled to commence play with the 2018-19 season. The league announced its formation after holding a board of governors meeting in Las Vegas, Nevada to set up operations and deal with other league matters on September 12, 2016.
The league announced that there were to be six teams to participate in the league's first season.  All of the teams were presently members of the Western States Hockey League, and according to reports all six teams will probably continue to operate their WSHL teams as well as the new teams.  The six teams are the Casper Coyotes, Colorado Jr. Eagles, El Paso Rhinos, Ogden Mustangs, Oklahoma City Blazers, and Springfield Express.
The league announced a two phase draft system to populate the team rosters. Phase I will consist of players that are already playing in an AAU-UHU league during the 2016-17 season.  Phase II will consist of players who attended league scheduled pre-draft events.  Any other players not selected in either of the drafts may be signed as free agents after the draft is held. On October 10, 2016 the league announced a two phase membership application process for additional franchises.  The first will be open to existing AAU-UHU owners.  The second phase will be open to new owners regardless of affiliation of AAU-UHU or any other sanctioning body.
In 2017, the league seemed to have disappeared, with member team Ogden Mustangs electing to stay in the WSHL. The leagues website and Facebook pages disappeared and were seemingly abandoned, leaving many to speculate the league was disbanded.
In January 2018, the league announced that it was set to begin in the 2018-19 season, with a minimum of 6 member teams. Three member teams: Colorado Jr. Eagles, El Paso Rhinos, Oklahoma City Blazers, from the initial announcement were confirmed to be playing in the league, with a fourth team from Wichita Falls, Texas as well. The league also identified potential markets for teams in Arizona, Colorado, Kansas, Missouri, South Dakota, Utah, and Wyoming. The league also named its first commissioner, Rick Kozubak
In March 2018, the leagues website and Facebook page both disappeared again, putting the status of the league in question again.
Approved Teams
Edit
Teams that have Withdrawn
Edit