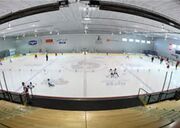 The Cavanagh Sensplex is a single pad arena which opened in the fall of 2007 as the newest edition of the West Carleton Community Complex (WCCC). The WCCC is a hub of services and recreation for residents of Ottawa in the West Carleton district. The Cavanagh Sensplex (and WCCC) is managed by Capital Sports Management Inc (CSMI).
Ad blocker interference detected!
Wikia is a free-to-use site that makes money from advertising. We have a modified experience for viewers using ad blockers

Wikia is not accessible if you've made further modifications. Remove the custom ad blocker rule(s) and the page will load as expected.