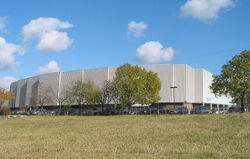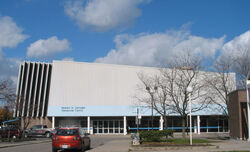 Carnegie Centennial Centre is a small arena located in the North York district of Toronto, Ontario.
It was built in 1967 (Canada's centennial year) and was opened as the North York Centennial Centre.
The arena was renamed on May 2,2001, as the Herbert Carnegie Centennial Centre. It was named after one of the first black hockey players in Canada who was also a native of North York.
It is the home of the North York Rangers and of several minor hockey teams. It has also served as a practice facility for the NHL's Toronto Maple Leafs and as home ice (occasionally) for the Ontario Hockey League's Toronto Marlboros.
Ad blocker interference detected!
Wikia is a free-to-use site that makes money from advertising. We have a modified experience for viewers using ad blockers

Wikia is not accessible if you've made further modifications. Remove the custom ad blocker rule(s) and the page will load as expected.