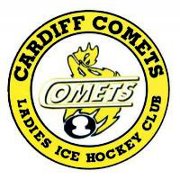 The Cardiff Comets are a women's hockey team in Cardiff, Wales. They play in the Womens Premier Ice Hockey League, the top league in Great Britain.
They started out as the Tiger Bay Tornadoes in 1989 and were renamed in 1994. They won the league in 2002-03.
Ad blocker interference detected!
Wikia is a free-to-use site that makes money from advertising. We have a modified experience for viewers using ad blockers

Wikia is not accessible if you've made further modifications. Remove the custom ad blocker rule(s) and the page will load as expected.