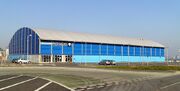 The Cardiff Arena, also known as Cardiff Bay Ice Arena and also known by ice hockey fans as the Big Blue Tent, is a temporary ice rink in Cardiff Bay, Cardiff, Wales. It has a capacity of 2,500 for ice hockey and is home to the Cardiff Devils. It is also used for figure skating and has hosted one competition to date (February 2009) with another planned for summer of 2010.
The ice rink is a prefabricated structure constructed in Finland. Assembly began in 2006 and after a number of delays opened on 6 December 2006 when the Devils hosted the Manchester Phoenix (who, coincidentally, were also waiting for a similar venue to be completed) in an Elite Ice Hockey League fixture. The Devils won the game 7-4 while Manchester's Tony Hand became the first player to score a goal at the rink.
Cardiff Arena is operated by Planet Ice and is a temporary structure that will remain open until the completion of a new arena.[1]
External links
Edit
Ad blocker interference detected!
Wikia is a free-to-use site that makes money from advertising. We have a modified experience for viewers using ad blockers

Wikia is not accessible if you've made further modifications. Remove the custom ad blocker rule(s) and the page will load as expected.