Ad blocker interference detected!
Wikia is a free-to-use site that makes money from advertising. We have a modified experience for viewers using ad blockers

Wikia is not accessible if you've made further modifications. Remove the custom ad blocker rule(s) and the page will load as expected.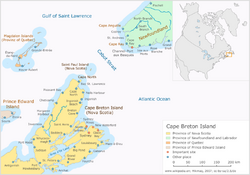 This was a senior hockey league that ran on Cape Breton Island in Nova Scotia. It operated under the authority of the Maritimes Amateur Hockey Association and the Canadian Amateur Hockey Association.
It ran in 1926-27, from 1933-34 to 1942-43, and from 1945-46 to 1949-50. In 1950-51 it became, for one season, the Cape Breton Major Hockey League before folding with Glace Bay and Sydney joining the Maritime Major Hockey League.
The league was ressurected in 1956 and operated until it folded at the end of the 1964-65 season. This version of the league collapsed in December of 1964 and what teams remained played an independent schedule for the rest of the season.
Its teams were eligible for the Allan Cup.
League Champions
Edit
1926-27 Sydney St Thomas
1933-34 Sydney Knights of Columbus
1934-35 Sydney Domcos
1935-36 Sydney Telephones
1936-37 Sydney Telephones
1937-38 Glace Bay Miners
1938-39 Sydney Millionaires
1939-40 Sydney Millionaires
1940-41 Sydney Millionaires
1941-42 Glace Bay Miners
1942-43 Glace Bay RCAF
1945-46 New Waterford Strands
1946-47 Glace Bay Miners
1947-48 Sydney Millionaires
1948-49 Sydney Millionaires
1949-50 Sydney Millionaires
1958-59 Glace Bay Miners
1959-60 Sydney Millionaires
1960-61 Glace Bay Miners
1961-62 North Sydney Victorias
1962-63 Glace Bay Miners
1963-64 Sydney Millionaires
1964-65 Glace Bay Moosehead Miners
Teams (1933-1943)
Edit
*-Don't have information on 1935-1936 season. Not sure of first/last seasons for these teams.
Sydney Knights of Columbus (1933-1934)
Sydney Domcos (1933-1935*)
Sydney Post-Record (1933-1934)
Sydney Co-Operatives (1933-1934)
Sydney British Consols (1933-1935)
Sydney Telephones (1933-1937)
Glace Bay Sunocos (1934-1935)
Glace Bay Sunoco Cubs (1936-1937) renamed Miners
Reserve Mines (1936-1938)
Sydney Advertisers (1936-1937)
Sydney Millionaires (1937-1942)
Northside Monarchs (1937-1938) renamed North Sydney Monarchs
Glace Bay Miners (1937-1942)
North Sydney Monarchs (1938-1939) renamed Victorias
North Sydney Victorias (1939-1942)
Sydney Army (1942-1943)
Sydney Navy (1942-1943)
Glace Bay RCAF (1942-1943)
Glace Bay Miners (1946-1950) join Cape Breton Major Hockey League
New Waterford Bruins (1946-1948) folded
Sydney Millionaires (1946-1950) join Cape Breton Major Hockey League
Northside (Sydney) Victorias (1948-1950) join Cape Breton Major Hockey League
Teams 1956-1964
Edit
North Sydney Combines (1956-1959) renamed Victorias
Glace Bay Miners (1956-1964) renamed Moosehead Miners
Sydney Millionaires (1956-1965) go independent, fold after season
North Sydney Victorias (1959-1963) folded
Antigonish Bulldogs (1963-1964) folded
Glace Bay Moosehead Miners (1964-1965) go independent fold after season