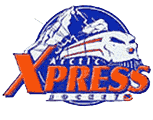 The Canton Ice Patrol was the final name of an unsuccessful attempt to establish a UHL team in Canton, Ohio, due to slow construction of an arena in Massillon, Ohio, close to Canton.
The Canton / Massillon area briefly had a team named the "Ohio Gears" that played half a season there after a rushed relocation of the Saginaw Gears. The Gears suspended operations, and had plans from 2000-2001 to return as the Arctic Xpress. The planned name changed to Canton Xpress from 2001-2002, and finally "Ice Patrol" beforing folding altogether.
Ad blocker interference detected!
Wikia is a free-to-use site that makes money from advertising. We have a modified experience for viewers using ad blockers

Wikia is not accessible if you've made further modifications. Remove the custom ad blocker rule(s) and the page will load as expected.