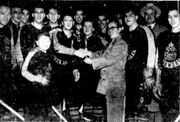 The Canmore Legion was an intermediate team in Canmore, Alberta. They played in the Alberta Big Six League and the provincial playoffs in the late 1940'a and early 1950's.
They won the Alberta Intermediate Championship in 1951-52.
They were sponsored by the local Royal Canadian Legion (a military veterans group) and had some veterans on the roster.