Canada national women's ice hockey team
Talk

0
Share
Ad blocker interference detected!
Wikia is a free-to-use site that makes money from advertising. We have a modified experience for viewers using ad blockers

Wikia is not accessible if you've made further modifications. Remove the custom ad blocker rule(s) and the page will load as expected.
Canada
Nickname(s)

Équipe Canada

(Team Canada)
Association
Hockey Canada
GM
Bob Nicholson
Head coach
Ryan Walter 2010-present
Assistants
Laura Schuler
Peter Smith
Captain
Hayley Wickenheiser
Most games
Hayley Wickenheiser (203)
Top scorer
Hayley Wickenheiser (142)
Most points
Hayley Wickenheiser (302)
IIHF code
CAN
IIHF ranking
1
Highest IIHF ranking
1 (first in 2003)
Lowest IIHF ranking
2 (2009)
First international
 Canada 10 - 0 Switzerland 
(North York or Mississauga, Canada; April 21, 1987)
Biggest win
 Canada 19 - 1 Netherlands 
(North York or Mississauga, Canada; April 23, 1987)
 Canada 18 - 0 Japan 
(Ottawa, Canada; March 22, 1990)
 Canada 18 - 0 Japan 
(Richmond, Canada; April 5, 1996)
 Canada 18 - 0 Slovakia 
(Vancouver, Canada; February 13, 2010)
Biggest defeat
 United States of America 7 - 3 Canada 
(Detroit, United States; January 6, 2002)
Olympics
Appearances
4 (first in 1998)
Medals
Gold: 3 - 2002, 2006, 2010
Silver: 1 - 1998
International record (W-L-T)
The Canadian women's national ice hockey team is controlled by Hockey Canada. Canada has been by far one of the two most dominant teams in international competition. They have won the majority of major ice hockey tournaments, while their losses have only been against the United States and Sweden. Canada has 62,640 female players (2005). The current head coach is Ryan Walter. The organization also relies on corporate donations.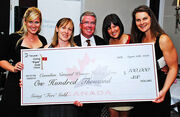 Head coaches
Edit
2010 Olympic team
Edit
Goaltenders
Defensemen
Forwards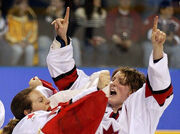 Olympic record
Edit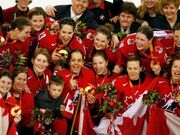 World Championship record
Edit
Clarkson Cup record
Edit
The Canadian woman were awarded the First Clarkson cup. Subsequently the trophy is awarded to the top woman's hockey club in North America.
3/4 Nations Cup record
Edit
1996 - Won Gold Medal
1997 - Won Silver Medal
1998 - Won Gold Medal
1999 - Won Gold Medal
2000 - Won Gold Medal (4 Nations Cup)
2001 - Won Gold Medal
2002 - Won Gold Medal (4 Nations Cup)
2003 - Won Silver Medal (4 Nations Cup)
2004 - Won Gold Medal (4 Nations Cup)
2005 - Won Gold Medal (4 Nations Cup)
2006 - Won Gold Medal (4 Nations Cup)
2007 - Won Gold Medal (4 Nations Cup)
2008 - Won Silver Medal (4 Nations Cup)
2009 - Won Gold Medal (4 Nations Cup)
2010 - Won Gold Medal (4 Nations Cup)
Pacific Rim Championship
Edit
All-time scoring
Edit
As of October 2009
External links
Edit
[1] AP story on Canadian National Team training