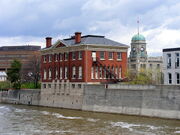 Cambridge is a city of about 130,000 just to the south of Kitchener in the Canadian province of Ontario.
It was formed in 1973 as an amalgamation of the towns of Preston, Galt, and Hespeler plus some smaller communities.
(Ontario Junior A Hockey League, 1982-1983) join GOJHL
(Greater Ontario Junior Hockey League, 1983-present)
Champions
Edit
External Links
Edit
Ad blocker interference detected!
Wikia is a free-to-use site that makes money from advertising. We have a modified experience for viewers using ad blockers

Wikia is not accessible if you've made further modifications. Remove the custom ad blocker rule(s) and the page will load as expected.