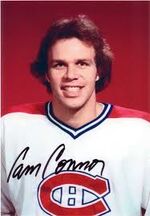 Cameron Duncan Connor
Selected by Montreal Canadiens 1st round (#5) in 1974 NHL Amateur Draft
Selected by Phoenix Roadrunners 1st round (#4) in 1974 WHA Amateur Draft
started his junior career with the St. Boniface Saints of the MJHL, playing two years. ... also, during these two years, played a handful of games with the Winnipeg Jets of the WCHL. ... joined the Flin Flon Bombers for 1973-74, where he scored 47 goals and 91 points with 376 minutes in penalties. ... after his junior career, opted to play in the WHA for the Phoenix Roadrunners. ... as a rookie scored 9 goals and 28 points with 168 minutes in penalties, and followed that with a 39-point effort in 1975-76, while spending 295 minutes in the box. ... traded to Houston October, 1976, where he had the best year of his professional career, scoring 35 goals and 67 points in 76 games. ... first professional player to fight Dave Semenko. ... after the next season Houston folds and his WHA rights were purchased by Winnipeg. ... he argued that he should be a free agent and signed with the NHL's Montreal Canadiens. ... the NHL ultimately approved the signing. ... saw limited playing time in 1978-79, but managed to appear in eight straight playoff games after Canadiens Hall of Fame goaltender Ken Dryden convinced coach Scotty Bowman that Connor was needed. ... the Canadiens won the Stanley Cup. ... was Edmonton's first pick in 1979 NHL Expansion Draft. ... played on first Edmonton Oilers NHL team. ... traded to NY Rangers on March 11, 1980, where he would stay within the organization until 1982-83. . ... played his final year of professional hockey with the 1983-84 Tulsa Oilers team that suspended operations on Feb. 16, 1984, but continued playing final six weeks of its season on the road and then went on to win playoff title. ...
Career Statistics
Edit
Career Moves
Edit
Traded to Houston (WHA) by Phoenix (WHA) for Bob Liddington, October, 1976.
Signed as a free agent by Winnipeg (WHA) after Houston (WHA) franchise folded, July, 1978.
Claimed by Edmonton from Montreal in Expansion Draft, June 13, 1979.
Traded to NY Rangers by Edmonton with Edmonton's 3rd round choice (Peter Sundstrom) in 1981 Entry Draft for Don Murdoch, March 11, 1980.
Awards & Achievements
Edit
Western Canada Hockey League Rookie of the Year (1974)
Stanley Cup National Hockey League Championship (1979)
Central Hockey League Championship (1984)
External links
Edit
Ad blocker interference detected!
Wikia is a free-to-use site that makes money from advertising. We have a modified experience for viewers using ad blockers

Wikia is not accessible if you've made further modifications. Remove the custom ad blocker rule(s) and the page will load as expected.