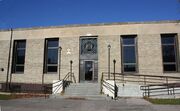 Laurium is a town of about 2000 people in the western part of Michigan's upper peninsula. It was known as Calumet until 1895. Another town, Red Jacket, adopted the name Calumet in 1929.
Back in the early 1900's, when copper mining was at its peak, the area had a population of over 20,000. The town had a team in the International Professional Hockey League known as the Calumet-Latrium Miners.
External Links
Edit
Ad blocker interference detected!
Wikia is a free-to-use site that makes money from advertising. We have a modified experience for viewers using ad blockers

Wikia is not accessible if you've made further modifications. Remove the custom ad blocker rule(s) and the page will load as expected.