The Calgary Monarchs were a senior, intermediate, and junior team.
The senior team played in 1914-15.
The intermediate team played in 1930-31 and 1931-32.
The junior team won the Calgary City Junior League in 1919-20 and the 1919-20 Alberta Junior Playoffs. They then went on to lose the final in the 1919-20 Western Canada Memorial Cup Playoffs.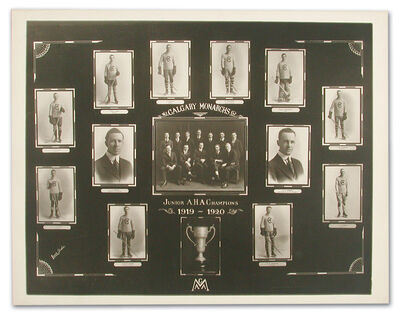 The Roster of the 1919-20 Monarchs:
Goalie: Cecil 'Tiny' Thompson
Defence: 'Moose' Mac Edwards
Defence: Neil Carr
Centre: Mooch Elliott
Right Wing: F.K. 'Toole' Timmins
Left WIng: Stan Curtis
Rover: Arnold 'Red' Scott
Sub: Aaron Wolf
Sub: J.F. Lawther
Sub: Archie McTeer