Ad blocker interference detected!
Wikia is a free-to-use site that makes money from advertising. We have a modified experience for viewers using ad blockers

Wikia is not accessible if you've made further modifications. Remove the custom ad blocker rule(s) and the page will load as expected.
The Calgary Monarchs were a senior, intermediate, and junior team.
The senior team played in 1914-15.
The intermediate team played in 1930-31 and 1931-32.
The junior team won the Calgary City Junior League in 1919-20 and the 1919-20 Alberta Junior Playoffs. They then went on to lose the final in the 1919-20 Western Canada Memorial Cup Playoffs.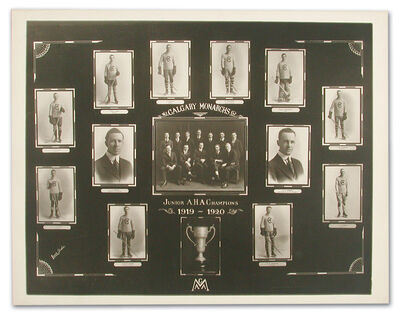 The Roster of the 1919-20 Monarchs:
Goalie: Cecil 'Tiny' Thompson
Defence: 'Moose' Mac Edwards
Defence: Neil Carr
Centre: Mooch Elliott
Right Wing: F.K. 'Toole' Timmins
Left WIng: Stan Curtis
Rover: Arnold 'Red' Scott
Sub: Aaron Wolf
Sub: J.F. Lawther
Sub: Archie McTeer