The Calgary Inferno (formerly known as Team Alberta and the Alberta Honeybadgers during the 2011-12 CWHL season) are a women's ice hockey team that joined the CWHL for the . The General Manager is Samantha Holmes. On July 21, 2011, the franchise participated in its first ever CWHL Draft. With the third overall pick in the 2011 CWHL Draft, Team Alberta selected Meghan Mikkelson. [1]
April 19: The league announced on April 19, 2011, that it would merge with the Western Women's Hockey League for the 2011-12 season. The merger will feature one team based in Edmonton and Calgary and is a combination of the former WWHL franchises the Edmonton Chimos and Strathmore Rockies. The team will play their games in various locations around Alberta.[2]Strathmore Rockies founder Samantha Holmes-Domagala, will join the sponsorship division of the CWHL and look after the requirements of the expansion team. [3]
July 21, 2011: Philanthropist Joan Snyder donated $2 million to Winsport Canada. The goal is to ensure priority rink access to female hockey players at all levels, and help expand the Canadian Women's Hockey League with the creation of Team Alberta. Part of the donation will cover the new addition to the Athletic and Ice Complex at Canada Olympic Park in Calgary. This will serve as the future home to Hockey Canada. In addition, there shall be four hockey rinks, one of which will be aptly called the Joan Snyder Rink. [4] Team Alberta will benefit with the allocation of free practice time, a dressing room exclusive to the club. Of note, the Joan Snyder Rink give priority to women's hockey bookings, but it will serve as the Team Alberta's home rink.[5]
October 28, 2011: Team Alberta played its first game in the CWHL versus the Burlington Barracudas. Laura Dostaler scores the first goal in Team Alberta history in a 4-2 victory.[6] Other goals were scored by Meghan Hunter, Jenna Cunningham and Courtney Sawchuk.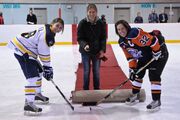 References
Edit
Ad blocker interference detected!
Wikia is a free-to-use site that makes money from advertising. We have a modified experience for viewers using ad blockers

Wikia is not accessible if you've made further modifications. Remove the custom ad blocker rule(s) and the page will load as expected.