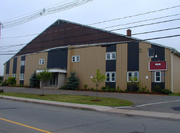 The Cahill Stadium was an arena in Summerside, Prince Edward Island. It was home to the Summerside Western Capitals ice hockey team, who won a Royal Bank Cup in the building in 1997. In March 2007 the building was closed to make way for the new Consolidated Credit Union Place a multi million dollar facility consisting of a much larger ice venue with close to 4000 stadium seats.
Though the building stands no longer, its memories are still left in the minds of all residents of Summerside. The Summerside Western Capitals hosted the Royal Bank Cup in Cahill Stadium in 1997, only winning 1 game in the round robin but coming back with an overtime win and then beating the South Surrey Eagles 4-3 in front of almost 4,000 people.(The capacity was really only 1200)
During the last game, 1,322 fans watched the Summerside Western Capitals defeat the Charlottetown Abbies 7-3.
Ad blocker interference detected!
Wikia is a free-to-use site that makes money from advertising. We have a modified experience for viewers using ad blockers

Wikia is not accessible if you've made further modifications. Remove the custom ad blocker rule(s) and the page will load as expected.