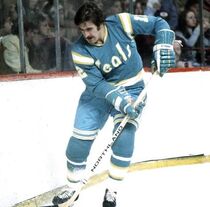 Warren Milton "Butch" Williams (born September 11, 1952 in Duluth, Minnesota) is a retired professional ice hockey player who played 108 games in the National Hockey League in 1974–76. He is the younger brother of former NHL player Tommy Williams.
Williams played junior hockey for the Oshawa Generals and the Niagara Falls Flyers from 1970 to 1972. Undrafted by any NHL team, he was signed as a free agent by the St. Louis Blues in 1972.
He played for the California Golden Seals and St. Louis Blues and also represented the United States in the 1976 Canada Cup. Williams finished his major league career in 1977 with the Edmonton Oilers of the World Hockey Association and also played for Team USA at the 1977 World Championship where he was named MVP by legendary icon and Coach John Mariucci.
He and older brother Tom Williams were the first American brothers to play in the NHL.
In the NHL he played in 108 games and scored 14 goals and 35 assists. Williams played in 29 WHA games and scored 3 goals and 10 assists.
External links
Edit
Ad blocker interference detected!
Wikia is a free-to-use site that makes money from advertising. We have a modified experience for viewers using ad blockers

Wikia is not accessible if you've made further modifications. Remove the custom ad blocker rule(s) and the page will load as expected.