The Buffalo Regals are a junior ice hockey team based in Buffalo, New York, United States. They are members of the Greater Ontario Junior Hockey League. They were known as the Wheatfield Jr. Blades until 2012 and Buffalo Blades and 2013.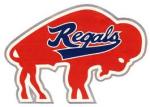 The organization was unable to ice a team for the 2014-15 season due to a lack of players
The team suspended operations in August of 2015 for the 2015-16 sesaon which according to a report on juniorhockey.com's website was due to a registration issue with USA Hockey.  The paperwork to get reinstated by USA Hockey was filled too late.
The team are scheduled to return to the GOJHL for the 2016-17 season.