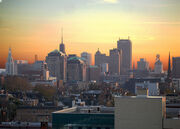 Buffalo is a city in western New York, United States of America.
It has a population of about 292,000 and a metro area of about 1,170,000 people.
(Continental Hockey Association, 2004-2005)
(Empire Junior Hockey League, 2006-Present)
Inline/Roller Hockey
Edit
Roller Hockey International (1994-1995) players form nucleus of Empire State Cobras based in Glens Falls. team becomes Buffalo Wings the following season
Roller Hockey International (1996-1997) join Major League Roller Hockey
Major League Roller Hockey (1998-1998) return to Roller Hockey International
Roller Hockey International (1999-1999)
University teams
Edit
Buffalo Broadway Auditorium (January 1931-January 1932 as ice rink) opened in 1898 as armory and still standing as a warehouse
Buffalo State Sports Arena (1991-Present)
First Niagara Center (September 21, 1996-Present) also known as Crossroads Arena(original name before opened), Marine Midland Arena, and HSBC Arena
Buffalo Memorial Auditorium "The Aud" (October 14, 1940-1996 as hockey venue) renovated in 1970 and 1990, demolished 2009
Peace Bridge Arena (Fort Erie, ON) (1928-March 17, 1936) roof collapsed
Dann Memorial Rink
Bud Bakewell Arena
Burvid Ice Rink
North Buffalo Ice Rink
Rotary Rink at Fountain Plaza
Holiday Twin Rinks
External Links
Edit
Ad blocker interference detected!
Wikia is a free-to-use site that makes money from advertising. We have a modified experience for viewers using ad blockers

Wikia is not accessible if you've made further modifications. Remove the custom ad blocker rule(s) and the page will load as expected.