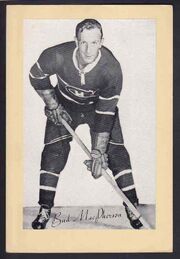 James Albert "Jim" "Bud" MacPherson (March 21, 1927, Edmonton, Alberta – 1988) nickname Bud, was a Canadian ice hockey defenceman. MacPherson began his National Hockey League career with the Montreal Canadiens in 1948. He spent his entire NHL career with the Habs until the 1957 season. Bud won the Stanley Cup in 1953 with Montreal.
Bud was a big defenceman, 6'4 and 200 lb.
He played three seasons of junior hockey in Edmonton (1944–46) and then spent a year with the Oshawa Generals.
In 1947-48 MacPherson joined the Edmonton Flyers and won the Allan Cup.
He played part of the next season with the Montreal Canadiens and became a regular in 1951-52, He won the Stanley Cup in 1952-53.
His play started going downhill in 1954-55 and he spent more time in the minors. Bud won the Calder Cup in 1958-59 with the Hershey Bears and ended up his career with the hometown Edmonton Flyers in 1961.
MacPherson was the coach of the junior Weyburn Red Wings in 1961-62.
In the NHL Bud played in 259 games and scored 5 goals and 33 assists. He also had 3 assists in 29 playoff games.
External links
Edit
Ad blocker interference detected!
Wikia is a free-to-use site that makes money from advertising. We have a modified experience for viewers using ad blockers

Wikia is not accessible if you've made further modifications. Remove the custom ad blocker rule(s) and the page will load as expected.