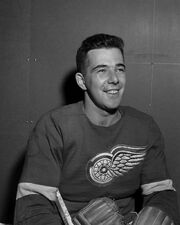 Gordon "Bucky" Hollingworth (July 24, 1933 in Montreal, Quebec – February 2, 1974) was a Canadian ice hockey defenceman.
Hollingworth started his National Hockey League (NHL) career with the Chicago Black Hawks in 1954. He also played with the Detroit Red Wings and left the NHL after the 1958 season. He retired from hockey completely in 1962 after being diagnosed with leukemia.
He played with the Montreal Junior Canadiens from 1949 to 1953, winning the Memorial Cup in 1950. The Montreal Canadiens sold him to the Chicago Black Hawks in 1954 after he spent a year with the Montreal Royals.
Hollingworth played the 1954-55 season with the Hawks but was traded the next year to the Detroit Red Wings. He did not fit into the Wings' plans and played only part time with the Wings. He played until retiring in 1962, mostly with the Hershey Bears. He won the Calder Cup with the Bears in 1958.
He played in 163 NHL games, scoring 4 goals and 14 assists.
External links
Edit
Ad blocker interference detected!
Wikia is a free-to-use site that makes money from advertising. We have a modified experience for viewers using ad blockers

Wikia is not accessible if you've made further modifications. Remove the custom ad blocker rule(s) and the page will load as expected.