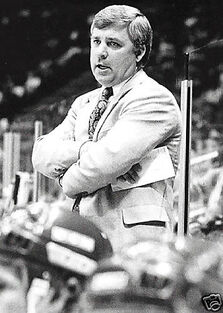 Bryan Clarence Murray (born December 5, 1942 in Shawville, Quebec, Canada) is a Canadian general manager,and is also a former coach.
He is currently the general manager of the National Hockey League's Ottawa Senators. He has previously been general manager of the NHL's Mighty Ducks of Anaheim, Florida Panthers and Detroit Red Wings. He was also the head coach of Detroit and was the head coach of the Washington Capitals. In other leagues, he has been head coach of the American Hockey League's Hershey Bears and Western Hockey League's Regina Pats.
Murray was born and raised in the small Ottawa Valley town of Shawville, Quebec, near Ottawa. He played hockey growing up, joining the Shawville Pontiacs intermediate club at age fourteen and later joined the Rockland Nationals of the Central Junior A Hockey League (CJHL). He attended MacDonald College and returned to Shawville and worked as a gym teacher. He then went into business buying a local motel.
Bryan began his hockey career as a part time coach with Pembroke of the CJHL. He earned a good reputation as a coach and was offered a job by the Regina Pats of the Western Hockey League. He left his business interests in the hands of family members, and moved west. After taking Regina to the Memorial Cup, Murray moved to the Hershey Bears of the American Hockey League, where he won coach of the year. The next year he became head coach of the Washington Capitals.
In seven seasons with Washington, Murray brought the team to the playoffs each year, and won the Jack Adams Award in 1984. In 1990, after being replaced by his brother in Washington, Bryan became coach and general manager of the Detroit Red Wings. The team had mixed results in his four seasons and after he left a team of Ken Holland, Scotty Bowman and Jim Devellano helped turn Detroit from a sagging franchise into the most dominant team of NHL.
Murray next was appointed the general manager of the expansion Florida Panthers. In 1996, the young Panthers made it to the Stanley Cup Finals, and Murray was selected as NHL Executive of the Year. From 2002–2004 Murray was general manager of the Mighty Ducks of Anaheim, and again saw his team quickly make a mark in the playoffs, reaching the 2003 Stanley Cup Finals. After a disappointing 2003–2004 season with the Mighty Ducks, Murray surprised many by deciding to resign from the GM post in Anaheim and move 'home' to become head coach of the Senators.
On February 20, 2007, he became the fifth NHL coach to achieve 600 victories, in a shootout win against the Edmonton Oilers. Despite this impressive number of victories (at the time the most among active National Hockey League coaches), he has yet to win a Stanley Cup. In his most recent trip to the Finals as head coach, the Senators team that he coached lost to his former club, the Anaheim Ducks.
Murray was promoted to general manager of the Senators on June 18, 2007, and assistant coach John Paddock took over the head coach duties. However, on February 27, 2008, Murray fired Paddock as head coach of the Senators after the team struggled through January and February, despite a 15–2 start. Murray served as head coach for the remainder of the 2007–08 season, with the team finishing in seventh place in the Eastern Conference. His team was swept in the first round of the playoffs by the Pittsburgh Penguins. Craig Hartsburg was hired as the new coach of the team in June 2008. After struggling for most of the 2008–09 NHL season, Bryan Murray fired head coach Craig Hartsburg after a 7-4 loss in Washington. In 48 games as head coach of the Ottawa Senators, Hartsburg posted a 17-24-7 record. Cory Clouston, head coach of the Binghamton Senators was hired as interim head coach.
Bryan's brother, Terry Murray, is the new coach for the LA Kings.
Coaching record
Edit
Team
Year
Regular Season
Post Season
G
W
L
T
OTL
Pts
Finish
Result
WAS
1981–82
66
25
28
13
-
(65)
5th in Patrick
Missed Playoffs
WAS
1982–83
80
39
25
16
-
94
3rd in Patrick
Lost in First Round
WAS
1983–84
80
48
27
5
-
101
2nd in Patrick
Lost in Second Round
WAS
1984–85
80
46
25
9
-
101
2nd in Patrick
Lost in First Round
WAS
1985–86
80
50
23
7
-
107
2nd in Patrick
Lost in Second Round
WAS
1986–87
80
38
32
10
-
86
2nd in Patrick
Lost in First Round
WAS
1987–88
80
38
33
9
-
85
3rd in Patrick
Lost in Second Round
WAS
1988–89
80
41
29
10
-
92
1st in Patrick
Lost in First Round
WAS
1989–90
46
18
24
4
-
(78)
1st in Patrick
(fired)
DET
1990–91
80
34
38
8
-
76
3rd in Norris
Lost in First Round
DET
1991–92
80
43
25
12
-
98
1st in Norris
Lost in Second Round
DET
1992–93
84
47
28
9
-
103
2nd in Norris
Lost in First Round
FLA
1997–98
59
17
31
11
-
(63)
6th in Atlantic
Missed Playoffs
ANA
2001–02
82
29
42
8
3
69
5th in Pacific
Missed Playoffs
OTT
2005–06
82
52
21
-
9
113
1st in Northeast
Lost in Second Round
OTT
2006–07
82
48
25
-
9
105
2nd in Northeast
Lost in Cup Finals
OTT
2007–08
18
7
9
-
2
(94)
2nd in Northeast
Lost in First Round
Total
1239
620
465
131
23
Links to related articles
<span/>
Ad blocker interference detected!
Wikia is a free-to-use site that makes money from advertising. We have a modified experience for viewers using ad blockers

Wikia is not accessible if you've made further modifications. Remove the custom ad blocker rule(s) and the page will load as expected.