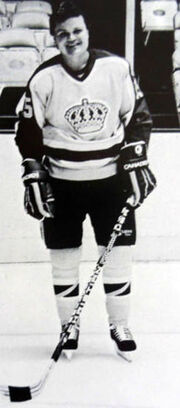 Bryan Lee 'Butsy' Erickson (born March 7, 1960 in Roseau, Minnesota) is a retired American ice hockey player.
Signed in 1983 as a free agent by the Washington Capitals after starring for the University of Minnesota men's ice hockey team, Erickson played parts of two seasons with the Capitals before he was traded to the Los Angeles Kings. He also played with the Pittsburgh Penguins and Winnipeg Jets before retiring from active professional play after the 1993–94 NHL season.
In the NHL Erickson played 351 games and scored 80 goals and 125 assists.
Erickson frequently played for Team USA in international hockey, playing in the 1979 and 1980 World Junior Championships. He also was a member of the 1982, 1986 and 1987 World Championships teams as well as the 1984 Canada Cup.
External links
Edit
Ad blocker interference detected!
Wikia is a free-to-use site that makes money from advertising. We have a modified experience for viewers using ad blockers

Wikia is not accessible if you've made further modifications. Remove the custom ad blocker rule(s) and the page will load as expected.