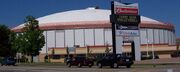 The Brown County Veterans Memorial Arena (more commonly known as the Brown County Arena) is a 5,248-seat multi-purpose arena in Ashwaubenon, Wisconsin, situated on the corner of Lombardi Avenue and Oneida Street across from Lambeau Field.
It opened in 1958. It was the home of the Green Bay Bobcats.
Ad blocker interference detected!
Wikia is a free-to-use site that makes money from advertising. We have a modified experience for viewers using ad blockers

Wikia is not accessible if you've made further modifications. Remove the custom ad blocker rule(s) and the page will load as expected.