Brooke Ammerman
Position
Forward
Shoots
right
Height
Weight
5 ft 8 in (1.73 m)

WCHA Team
Wisconsin
Pro Career
2008 – present
Brooke Ammerman (born in River Vale, New Jersey) is an American female forward playing for the Wisconsin Badgers women's ice hockey team. She is now (2011-12) in her senior year at Wisconsin. Her sister Britanny Ammerman is also a member of the Wisconsin Badgers.
Medal record
Competitor for the  United States
U18 IIHF World Women Championships
Gold
2008
2008 U18 Women's World Ice Hockey Championships
Playing career
Edit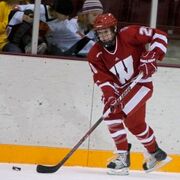 December 10-11, 2010: Brooke Ammerman led her team with six scoring points and was named the No. 1 star of both games as the Badgers swept league rival St. Cloud State. She tallied three goals and three assists, with three of her six points coming on the power-play. In addition, she recorded her second hat trick of the season and added one assist for four points in the December 11, 6-1 win over St. Cloud. Her hat trick included two powerplay goals and the game-winner. On December 10, Ammerman set up Madison Packer's goal at 10:02 of the first period to give the Badgers a 2-0 lead and followed up with another helper just 2:34 later. As of December 15, Ammerman is tied for the national lead with six power-play goals on the season. Her six points tied her career-high for a single series. Through 18 games played this season, Ammerman has produced 24 points on 10 goals and 14 assists. [1]
Awards and honors
Edit
WCHA Offensive Player of the Week (Week of December 15) [2]
2010 USA Hockey U22 Select Team
WCHA all-star in 2009-10.
2009, 2010 All WCHA Third Team
2009 WCHA All-Rookie Team
2009 Olympic Tryout
2008 USA Hockey U18 National Team, World Champions, Ass't Captain
2007 USA Hockey U18 Select Team, Ass't
North American Hockey Academy Hall of Fame
References
Edit
Ad blocker interference detected!
Wikia is a free-to-use site that makes money from advertising. We have a modified experience for viewers using ad blockers

Wikia is not accessible if you've made further modifications. Remove the custom ad blocker rule(s) and the page will load as expected.