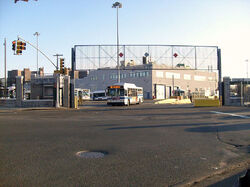 The Bronx Coliseum is a defunct sports venue and auditorium in New York City, in the borough of The Bronx.
The 105,000 sq. ft. building was an auditorium originally built for Philadelphia's 1926 Sesquicentennial Exposition, and transported in 1928 to Starlight Park at 177th Street and Devoe Avenue in the "West Farms" section of the Bronx. It was also referred to as the "Starlight Park Stadium".
The 15,000-seat edifice was used for circuses, boxing, political rallies, opera, and midget auto racing. The Bronx Coliseum hosted the defunct Eastern Hockey League's Bronx Tigers franchise for two non-consecutive seasons, 1933–34, and 1937–38. The U.S. Army controlled the building from 1942 through 1946, after which it was called "Coliseum Depot" and used as a New York City Transit Authority bus garage until 1993.[1] The building still stands.
References
Edit