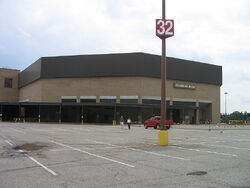 Broadbent Arena is a 6,600-seat multi-purpose arena in Louisville, Kentucky. It was home to the Louisville Icehawks and Louisville Riverfrogs ice hockey teams. The arena, along with Cardinal Stadium and Freedom Hall, is located on the Kentucky State Fairgrounds in Louisville. The arena is used for equestrian events, and other fairground type activities.
Ad blocker interference detected!
Wikia is a free-to-use site that makes money from advertising. We have a modified experience for viewers using ad blockers

Wikia is not accessible if you've made further modifications. Remove the custom ad blocker rule(s) and the page will load as expected.