British Columbia Intercollegiate Hockey League
Talk

0
Share
Ad blocker interference detected!
Wikia is a free-to-use site that makes money from advertising. We have a modified experience for viewers using ad blockers

Wikia is not accessible if you've made further modifications. Remove the custom ad blocker rule(s) and the page will load as expected.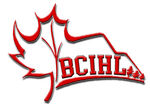 The British Columbia Intercollegiate Hockey League (BCIHL) is an independnt university and college league. The league's current and former teams are also affiliated with other conferences (the CWUAA of the CIS, the GNAC of the NCAA, or the PWAA of the CCAA) in other sports.
The league officially started in 2005-06 with teams from Trinity Western University, Simon Fraser University, University of Victoria, University of Northern British Columbia and University of the Fraser Valley. The league is currently a 5-team league and plays a 24 game schedule. The top 4 teams qualify for best-of-3 semi-finals. There is no national championship for the league winner to pursue.
Recruited players usually come from Junior A or Junior B leagues, with a smattering of Major Junior grads as well.
The frequency of non-conference games between BCIHL teams and those from other conferences has increased. They usually suffer dominant losses to teams from the CIS and NCAA, but have gone about .500 against teams from the Alberta Colleges Athletic Conference (ACAC).
Participating Teams
Edit
Current Teams
Edit
Former Teams
Edit
Table of Seasons and ChampionsEdit
Click on year to visit page for that season.
Click on team to visit team page.
Until 2013 the champion was declared from a final tournament. Starting in 2014 playoff series were used.
Championship Tournament All-Star Teams
Edit
2013:
Forwards: Cody Fidgett (Selkirk), Brendan Silvester (SFU), Jordan Wood (Selkirk)
Defencemen: Kam Crawford (Selkirk), Taylor Swaffield (SFU)
Goaltender: Alex Sirard (Selkirk)
Most Valuable Player: Alex Sirard (Selkirk College)
2012:
Forwards: Dustin Taylor (UVIC), Bill Smith (SFU), Brent Sutherland (UVIC)
Defencemen: Doug Evans (UVIC), Dave Mann (OC)
Goaltender: Graeme Gordon (SFU)
Most Valuable Player: Dustin Taylor (UVIC)
2011:
Forwards: Paul Moscone (SFU), Zac Rasmussen (TRU), Bill Smith (SFU)
Defencemen: James Isaacs (SFU), Matt Schultz (UVIC)
Goaltender: Anthony Manfredi (TRU)
Most Valuable Player: Paul Moscone (SFU)
2010:
Forwards: Joel Leonard (TRU), Jas Rai (SFU), Jassi Sangha (TRU)
Defencemen: David Boychuk (TRU), Kyle Boyko (SFU)
Goaltender: Adam Butler (OC)
Most Valuable Player: Jas Rai (SFU)
2009:
Forwards: Brent Sutherland (UVic), Rob Vos (UFV), Jaime Laprise (SFU)
Defence: Iain Stewart (SFU), Matt Schultz (UVic)
Goaltender: Nick Olynyk (UVic)
Most Valuable Player: Brent Sutherland (UVic)
2008:
Forwards: Rob Vos (UCFV), Dan Birch (UVic), Paul Moscone (SFU)
Defense: Mike Boisvert (Selkirk), Nathan Sagert (UCFV)
Goalie: Gord Neave (UVic)
Most Valuable Player: Blair Driedger (SFU)
2007:
Goalie: Gord Neave, Victoria
Defense: Ettienne du Toit, Victoria; Nathan Sagert, UCFV
Wing: Kit Matkaluk, Victoria; Shawn Murracas, SFU
Centre: Drew Davis, Victoria (Tournament MVP and leading scorer)
Most Valuable Player: Drew Davis (UVic)
SOURCE: BCIHL.ca History Page
University links:
College links:
British Columbia Intercollegiate Hockey League