Honoured Member of the Manitoba Hockey Hall of Fame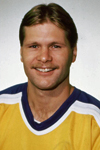 Brian Paul Engblom
Selected by Winnipeg Jets 2nd round (#22) in 1974 WHA Amateur Draft
Selected by Montreal Canadiens 2nd round (#22) in 1975 NHL Amateur Draft. Made NHL debut in 1977 Stanley Cup playoffs. ... Had his name engraved on Stanley Cup before he had played a regular season NHL game. ... Played first regular-season game on Oct. 24, 1977 (Washington at Montreal). ... suffered neck injury in Calgary's Dec. 12, 1986, game vs. Quebec. ... had surgery to remove bone spurs in neck in March 1987, but was unable to return to action. ... Named Los Angeles radio color commentator prior to 1991-92 season and remained in that position through 1994-95 season. ... Worked as part-time TV commentator for ESPN during 1993-94 regular season and playoffs. ... Became full-time NHL commentator prior to 1995-96 season and remained in that position into 2002-03 season. ...
Career Statistics
Edit
Awards & Achievements
Edit
Career Moves
Edit
External links
Edit
Ad blocker interference detected!
Wikia is a free-to-use site that makes money from advertising. We have a modified experience for viewers using ad blockers

Wikia is not accessible if you've made further modifications. Remove the custom ad blocker rule(s) and the page will load as expected.