Brian "Boosh" Boucher (pronounced Boo-shay) (born January 2, 1977) is an American professional ice hockey goaltender for the Philadelphia Flyers of the National Hockey League (NHL).
Playing career
Edit
Boucher was drafted by the Philadelphia Flyers in the first round of the 1995 NHL Entry Draft, 22nd overall. He began play with the Flyers in the 1999–2000 season, taking the starting position from veteran John Vanbiesbrouck and helped the team secure the Eastern Conference and Atlantic Division regular season titles while leading the NHL in goals against average at 1.91. In the playoffs, he backstopped his team to the Eastern Conference Finals. Along the way, he recorded several memorable moments, including a five-overtime victory against the Pittsburgh Penguins[1] and a sprawling save against Patrik Elias of the New Jersey Devils.[2] Although the Flyers were ahead 3-1 in the Eastern Conference Finals against the Devils and despite the return of the injured Eric Lindros, Boucher and the Flyers lost in seven games to the eventual Stanley Cup champion New Jersey Devils. In 2000–01, however, a weak start saw him lose his starting position to Roman Čechmánek.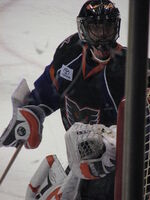 He was traded with draft picks to the
Phoenix Coyotes
on June 12, 2002, for
Michal Handzuš
and
Robert Esche
. While with Phoenix, he broke the modern-day NHL record for the longest shutout streak by a goalie, going unscored upon for 332 minutes, or 5 and a half games. On February 1,
2006
, Phoenix traded him to the
Calgary Flames
along with
Mike Leclerc
in exchange for
Steven Reinprecht
and
Philippe Sauvé
.
Boucher began the 2006–07 NHL season with the Chicago Blackhawks. On February 27, 2007, Boucher was picked-up on waivers by the Columbus Blue Jackets. Boucher arrived hours prior to the Blue Jackets-Colorado Avalanche game that evening. During the game, he wore Ty Conklin's #35 sweater. On March 3, 2007, Boucher made his Blue Jackets debut against his former team the Phoenix Coyotes. His first game was a successful 4–3 win.
On July 23, 2007, Boucher signed with the Philadelphia Flyers AHL affiliate, Philadelphia Phantoms. After playing most of the 2007–08 season with the Phantoms, Boucher signed a one-year contract with the San Jose Sharks on February 26, 2008.[3]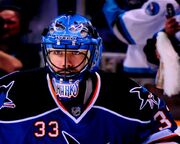 On June 25, 2008, stating how much he liked the San Jose atmosphere, he signed one-year contract with the Sharks worth US$650,000.
[4]
He recorded consecutive shutouts in each of his first two games of the
2008–09 NHL season
for the Sharks, before finally allowing a goal in his third game.
On July 1, 2009, Boucher agreed to a 2 year contract with the Philadelphia Flyers to be the steady, veteran backup to the starting goalie Ray Emery. When Emery was hurt midway through the season, however, Boucher was thrust into the spotlight with mediocre results. A hand injury soon pushed Boucher to the sideline, and he was replaced by 3rd-string goaltender, Michael Leighton. Leighton, however, excelled in Boucher's absence, and Boucher found himself backing up Leighton. As the 3rd goalie, now, Boucher was further demoted to the press box, upon the return of the starter, Ray Emery, Leighton now the backup. Emery soon re-injured himself, however, so Boucher was at least dressing behind Leighton, who once again was playing well. Near the end of the season though, with only 13 games left, Leighton went down with a high-ankle sprain, and Boucher was back into the spotlight for the Flyers once again. After a 2-1 shootout victory in the final game of the season against the New York Rangers, Boucher and the Flyers advanced to the playoffs.
In the 2009-2010 Stanley Cup playoffs, Boucher beat Martin Brodeur and the New Jersey Devils in the first round by a margin of 4-1. The national media remarked that he was the surprise of the playoffs after the first round with his outstanding play in net. The Flyers defeated the Boston Bruins in the second round by overcoming an 0-3 game deficit, but Boucher was injured in Game 5 of that series with knee injuries. Boucher returned from his injuries to serve as a backup to Michael Leighton in Game 1 of the Stanley Cup Finals against the Chicago Blackhawks. He saw game action in Game 1 and Game 5 in relief of Leighton, but the Flyers lost in 6 games to the Blackhawks.
In the 2010-2011 season, he split time in goal with standout rookie Sergei Bobrovsky after Leighton was demoted to the AHL. After game 2 of the conference quarterfinals against the Buffalo Sabres, Boucher was named the starter for the Flyers. After relieving Leighton in game 6 of the same series against Buffalo, Boucher became the only goaltender in NHL history to record two wins in a playoff series when coming in relief.
On July 1, 2011, Boucher was signed by the Carolina Hurricanes to a two year deal worth $950,000 per season.[5]
Personal life
Edit
Boucher has a wife Melissa and has 2 children; son Tyler, born October 2002, and daughter Brianna, born December 2004. He attended Mount St. Charles Academy in high school.[6]
Awards and achievements
Edit
Modern day NHL record with five consecutive shutouts in 2003–04.
Career statistics
Edit
Regular season
Edit
 
 
Season
Team
League
GP
W
L
MIN
GA
SO
GAA
SV%
1994
Mount St. Charles Mounties
RIIL
4
4
0
180
6
1
1.20
1995
Tri-City Americans
WHL
13
6
5
795
50
0
3.77
1996
Tri-City Americans
WHL
11
6
5
653
37
2
3.40
1998
Philadelphia Phantoms
AHL
2
0
0
30
1
0
1.94
.944
1999
Philadelphia Phantoms
AHL
16
9
7
947
45
0
2.85
.906
2000
Philadelphia Flyers
NHL
18
11
7
1183
40
1
2.03
.917
2001
Philadelphia Flyers
NHL
1
0
0
37
3
0
4.86
.824
2002
Philadelphia Flyers
NHL
2
0
1
88
2
0
1.37
.939
2009
San Jose Sharks
NHL
1
0
0
2
0
0
0.00
---
2010
Philadelphia Flyers
NHL
12
6
6
656
27
1
2.47
.909
2011
Philadelphia Flyers
NHL
9
4
4
422
22
0
3.13
.904
NHL totals
43
21
18
2388
94
2
2.36
.911
AHL totals
18
9
7
977
46
0
2.82
.908
WHL totals
24
12
10
1448
87
2
3.60
International
Edit
Year
Team
Event
 
GP
W
L
T
MIN
GA
SO
GAA
1996
United States
WJC
4
3
1
0
220
13
0
3.55
1997
United States
WJC
6
4
1
1
357
9
2
1.51
Junior int'l totals
10
7
2
1
577
22
2
2.29
References
Edit
External links
Edit
Ad blocker interference detected!
Wikia is a free-to-use site that makes money from advertising. We have a modified experience for viewers using ad blockers

Wikia is not accessible if you've made further modifications. Remove the custom ad blocker rule(s) and the page will load as expected.