</div></div> Brandon Saad (born October 27, 1992)[1] is an American professional ice hockey player for the Chicago Blackhawks of the National Hockey League (NHL). Saad was raised in Pittsburgh, Pennsylvania, and attended Pine-Richland High School. He is American of Syrian descent.[2] He was drafted in the second round, 43rd overall by the Chicago Blackhawks in the 2011 NHL Entry Draft. Saad currently wears #20 (previously #43) for the Chicago Blackhawks.
Playing career
Edit
On October 4, 2011, the Chicago Blackhawks signed Brandon Saad to a 3-year, entry-level contract.[3] It was announced that he would start the season with the Blackhawks, making him at 43rd overall the lowest draft pick to start with the Blackhawks in their draft year since the 2003-04 season.[4] He made his NHL debut with the Blackhawks on October 7, 2011, versus the Dallas Stars. The Blackhawks reassigned him to his junior club on October 12, 2011.[5] He was named Canadian Hockey League player of the week for the week of October 17 to October 23.[6] Saad was named team captain of the Saginaw Spirit for the remainder of the 2011–12 OHL season following the trade of Ryan O'Connor to the Barrie Colts.[7] Saad finished the 2011–12 OHL season with a league-best 1.73 points-per-game average.[8] Saad was recalled to the Blackhawks on April 16, 2012, following the conclusion of his season in the OHL, and made his NHL playoff debut on April 19, 2012.[9] Saad notched his first NHL point on April 21, 2012, with an assist on a goal in a playoff game against the Phoenix Coyotes.[10]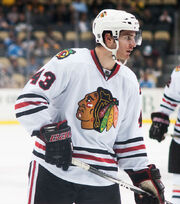 On September 15, 2012, the Blackhawks assigned Saad to the Rockford IceHogs of the American Hockey League in anticipation of the 2012–13 NHL lockout.[11] Saad was named CCM/AHL Player of the Week for the period of January 7–13, 2013, for earning 6 points in 3 games, including 2 game-winning goals.[12] The Blackhawks named Saad to the starting roster for the lockout-shortened 2012–13 season on January 17, 2013.[13]
Saad scored his first career NHL goal on February 5, 2013, against Antti Niemi of the San Jose Sharks.[14] On February 22, 2013, Saad scored a game-winning shorthanded goal against the Sharks to secure an NHL-record 17th straight game with at least one point to start a season for the 2012–13 Blackhawks, breaking the previous record of 16 straight games held by the 2006–07 Anaheim Ducks.[15] On May 6, 2013, Saad was named as a finalist for the 2013 Calder Memorial Trophy.[16]
On June 24, 2013, Saad won his first Stanley Cup as the Chicago Blackhawks defeated the Boston Bruins in six games.
His older brother George (born November 14, 1990) played NCAA hockey with the Penn State Nittany Lions[17] and was drafted by Youngstown Phantoms in the USHL Entry Draft.
Notable awards and honors
Edit
Career statistics
Edit
Regular season and playoffs
Edit
International
Edit
References
Edit
External links
Edit