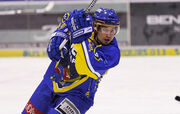 Brady Leavold (born August 21, 1987 in Port Coquitlam, British Columbia) is a Canadian right winger] playing for the Rio Grande Valley Killer Bees in the Central Hockey League.
He played major junior hockey for the Swift Current Broncos and the Kelowna Rockets from 2003 to 2008. Undrafted by any NHL team, Leavold turned pro with the Victoria Salmon Kings in 2007-08.
Leavold signed with the Bees in February, 2012, after a two year layoff due to his struggle with perscription drugs please see link below for the story.
http://www.themonitor.com/sports/leavold-59015-bees-brady.html
Ad blocker interference detected!
Wikia is a free-to-use site that makes money from advertising. We have a modified experience for viewers using ad blockers

Wikia is not accessible if you've made further modifications. Remove the custom ad blocker rule(s) and the page will load as expected.