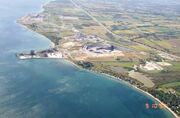 Bowmanville is now part of Clarington which is in Ontario, Canada. It is located just to the east of Oshawa. Its population is estimated at 30,000.
(Ontario Provincial Junior Hockey League, 1995-2009) join CCHL
(Central Canadian Hockey League, 2009-2010) merged into Cobourg Cougars
Garnet B. Rickard Recreation Complex
External Links
Edit
Ad blocker interference detected!
Wikia is a free-to-use site that makes money from advertising. We have a modified experience for viewers using ad blockers

Wikia is not accessible if you've made further modifications. Remove the custom ad blocker rule(s) and the page will load as expected.